Israel Foreign Minister Lapid is in Ankara
Israel Foreign Minister Yair Lapid and Foreign Minister Mevlut Cavusoglu held a bilateral meeting in Ankara. Making a joint statement to the press after the meeting, Lapid said, "The lives of Israeli citizens have been saved in the past weeks."
23.06.2022 - 17:30 |
| ANKARA, (DHA)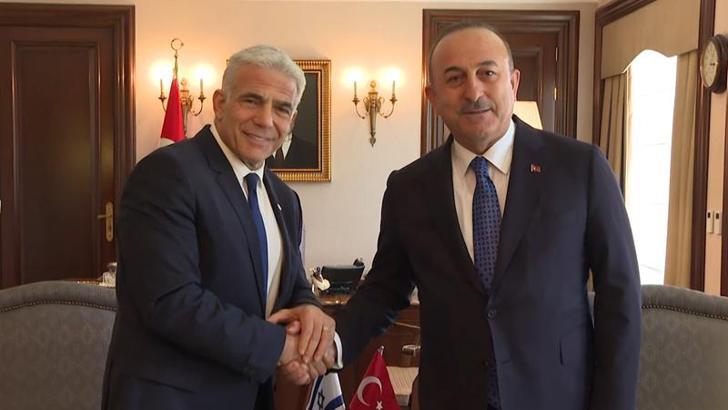 Minister Cavusoglu;
"We have started the efforts to increase our diplomatic representation level to the embassy level."
"We will hold the Joint Economic Commission Meeting in the coming period, in September or October, two dates came from Israel."
"Our Agriculture Ministries continue their contacts for fresh fruit export to Israel."
Minister Cavusoglu thanked Israel for the support of the wildfires that took place in Turkey and the Northern Cyprus Turkish Republic last year, and thanked the Israeli Foreign Minister Lapid for the support.
"Consultations in the field of civil aviation will be held on July 4 between our relevant institutions."
"We were in close contact with Minister Lapid about the terrorist threat against Israeli citizens in our country. Intelligence and information sharing between our institutions has been continuous."
"We will never allow such incidents to happen in our country. We do not allow such reckonings within our country, nor can we allow terrorist attacks."
Minister Lapid;
"The lives of Israeli citizens have been saved in the past weeks. Thanks to Türkiye's diplomatic and security cooperation with Israel, Turkish intelligence recently uncovered an Iranian conspiracy in Istanbul, and these efforts are continuing. We congratulate them for these professional and coordinated activities of the Turkish government."
"Effort is progressing to start direct flights of Israeli airlines to both the Turkish coast and Istanbul."